MLB Update Boston Red Sox - Okajima wants a trade Vegas Odds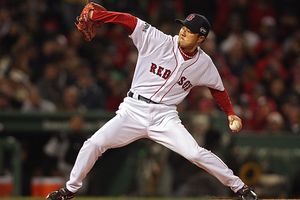 With reliever Rich Hill expected to miss the rest of the season with arm problems, the Boston Red Sox need a little help from the bullpen. The open space is not going to Hideki Okajima, and that is fine with veteran reliever who currently works at the Triple-A Pawtucke.
The 35-year-old Okajima, designated for assignment on May 20, still hopes to be traded. Two weeks have passed since the roster move, and could indicate that the Red Sox have not found buyers.
"I'd rather not be called up in this situation," Okajima tells Michael Vega of the Boston Globe.
Boston is at home this weekend to face Oakland A's. MLB Vegas Odds have the Boston Red Sox -193 favorite to start the MLB Picks series on Friday night. Here are some betting trends to use to Bet with your Online Sportsbook. Red Sox are 6-0 in their last 6 games vs. a starter with a WHIP greater than 1.30. Athletics are 1-4 in their last 5 during game 1 of a series.