NBA Playoffs Picks & Vegas Odds - Thunder Rolls Into Denver With 2-0 Lead -Those who
bet on the Kentucky Derby
may have been interested in the first game of the matchup between Denver and Oklahoma City in the NBA's Western Conference, as a 107-103 NBA Playoffs Picks victory for the Thunder was essentially a thoroughbred race with two horses trying to get to the finish line last. Game 2 was a different story as the Thunder raced out to an early lead and never looked back to take a 2-0 lead to Denver.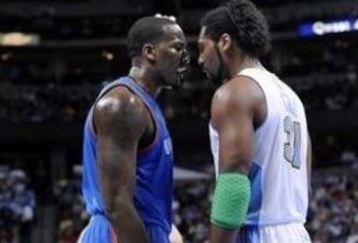 The Thunder were up 31-15 at the end of the first quarter (MLB betting players have seen their wager go down the drain because of a five-run first inning many times), and while the Nuggets played Oklahoma City even the rest of the way, the Thunder still romped to a 106-89 victory at home, holding the Nuggets to 39.1% from the field, along with a 54-31 rebounding edge. Kevin Durant led the way with 23 points, while Russell Westbrook added 21 points for the Thunder, who had Serge Ibaka and Kendrick Perkins with 12 and 11 boards apiece, respectively, and Oklahoma City outrebounded Denver 17-5 on the offensive glass, which led to many second-chance opportunities. If you have to take a negative from this game, it was seven turnovers by Westbrook, but he's had a problem with turnovers all season, and he still managed seven assists.
The Nuggets couldn't sustain Oklahoma City's big blows early in the game, but to their credit, they never gave up for the entire game. Ty Lawson had 20 points, while Nene and Ray Felton had 16 points each for the Nuggets, who actually brought Felton off the bench, but his 36 minutes was only one less than Lawson as the Nuggets tried to go small so they could push the pace, which actually kept them from getting routed worse than they did. Denver also stayed aggressive, going 28-of-37 at the foul line, as opposed to 24-of-28 for the Thunder. In the end, it was a slow start and an inability to bang on the boards which killed Denver's chances. You don't need a 5dimes review to tell you that being down by 16 after 12 minutes, and a -23 deficit on the boards isn't going to boost your chances of winning a game, much less a playoff game on the road. Vegas Odds makers have listed Oklahoma City +5 underdogs over Denver in game 3.
Denver gets to return home now, where they were 33-8 in the regular season, but the Thunder handed them one of those eight losses, in the final two weeks of the season, so you know they won't be afraid to go to the Pepsi Center, where the altitude is an issue for some teams. The Thunder are a young team with plenty of stamina, so it shouldn't bother them, and this should be an excellent game for sports betting players.