Duke In For Devil Of A Time Against Alabama College Football Picks Odds & Predictions
Duke In For Devil Of A Time Against Alabama College Football Picks Odds & College Football Predictions
-Those looking to
bet on NCAA football
will sometimes get excited when they see a No.1 team going out on the road.  That will happen this Saturday, when the top-ranked squad from Alabama heads to Duke, and a College Football Picks win for the Blue Devils is next to impossible.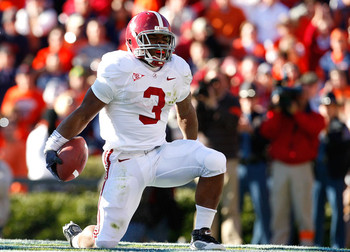 Alabama Duke Betting – College football schedule - Saturday, September 18th, 3:30 PM ET. The No.1 Crimson Tide (2-0) flexed their muscles in a 20-13 College Football Predictions win over Penn State at home, and they're one of a handful of teams who haven't allowed a touchdown in their first two College Football Odds games of the year.  Greg McElroy was 16-of-24 for 229 yards, a pair of scores and no picks, but the story was Trent Richardson, who ran 22 times for 144 yards and a touchdown.  Richardson has gotten the bulk of the carries with Heisman winner Mark Ingram injured, and he's going to make it tough for Ingram to get his job back.  Defensively, the Crimson Tide allowed 283 yards, and whenever the Nittany Lions got close, the Crimson Tide would force one of their four turnovers.
The Blue Devils (1-1) played in what may be one of the wildest games you'll hope to see: after a 35-35 deadlock…..at halftime, Duke fell 54-48 at Wake Forest in a firefight.  Sean Renfree was 28-of-44 for 358 yards and four touchdowns, but he was also picked off three times.  Desmond Scott had 11 carries for 122 yards and a score for the Blue Devils, who gained 487 yards, but gave up 500.  The difference in the College Football Predictions game was a fumble returned for a score early in a wild second quarter, but that type of performance is going to only earn them a severe beating from the likes of Alabama. Get a $25 Free Play when you sign-up at BetOnline.
You'd have to do an online sportsbook review to see if the odds are the same across the board, because you'll see that the Crimson Tide are a 24-College Football point Spreads  favorite on the road.  These two last met in 2006, when Alabama won 30-14 at home, and that was really before Nick Saban put his stamp on the team.  The Crimson Tide are now the defending national champions and the measuring stick of the country, and Duke is about to get beaten with that stick.  If they gave up 500 yards against Wake Forest, there's no telling how many Richardson and Ingram are going to rack up.  The Duke offense won't be able to get away with what they did to Wake Forest against the Alabama defense, which lost nine starters from last year's group and is still one of the best in the nation.  College Football Picks This game should probably be over by halftime.  Take Alabama to cover when you're doing your sports betting online.
2010 College Football Picks is kicking into full gear this week 3, so Open up an again and Join BODOG.COM for the College Football betting odds and start building up with a 30% Sign up Bonus.
More articles from this author