2011 NFL Schedule Denver Broncos Won't Have It Easy When Season Kicks Off
Even with Belmont odds hot on the sportsbook stove right now with the big race taking place in three weeks, the NFL lockout looms over the world like a massive storm cloud. But that hasn't stopped the NFL from releasing their schedule for the next season, and Denver's slate is going to be a handful for the Broncos as it ranked T-3 in terms of difficulty.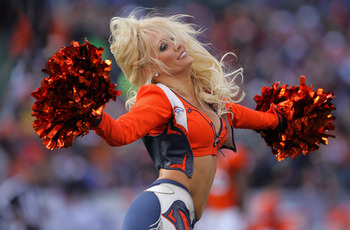 The preseason begins with a trip to Dallas, before Buffalo and Seattle come to Colorado, and it wraps up with a visit to Arizona. The regular season kicks off with a bang as the Broncos make their lone appearance on Monday Night Football when they host Oakland, their biggest AFC West rivals. The Broncos 2011 NFL Schedule will be at home the next week as well as they welcome Cincinnati to town, and you should receive a sports betting bonus if Carson Palmer, who has threatened to retire if he's not traded, is under center for the Bengals. The Broncos then head out on the road to face Tennessee and the defending Super Bowl champions from Green Bay before returning home to host another AFC West rival, San Diego.
The Broncos will have their bye in Week 6, and then they'll travel to the Sunshine State to take on Miami as Tim Tebow heads back to his native state. Denver will then host Detroit before back-to-back road games at Oakland and Kansas City, and these games will likely have a say in how the Broncos fare in the AFC West. It won't get any easier as the New York Jets come to town for a Thursday night primetime game, then the Broncos have 10 days to prepare for a Thanksgiving trip to San Diego. They'll stay out on the road when they head to Minnesota before returning home to host Chicago and New England. The Broncos will be in Buffalo for Christmas Eve before wrapping up the season at home against Kansas City on New Years Day in a game that could be one of the most anticipated NFL picks of the week.

Denver was 4-12 last season and missed the playoffs for the fifth year in a row, but they'll probably have some leeway among their fans as they have a new coach in John Fox, who was fired by Carolina, while Bronco legend John Elway is in his first year as the Executive Vice President of Football Operations, and Tebow enters the season as the starter in his second year as a pro. The Broncos don't have an easy schedule, but they have a lot of work, but as long as they don't get blown out consistently, the fans should be patient with them. Still, don't expect them to be favored much by sports betting odds. 2011 NFL Schedule Denver Broncos Won't Have It Easy When Season Kicks Off.